The Basics Behind Light-Life® Energy Tools. Understanding how Light-Life Tools work to promote a healthy environment.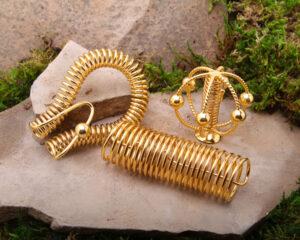 What are the basics behind Light-Life Energy Tools? To begin with, Light-Life Tools is based on the Egyptian or Sacred Cubit measurement. This dimension was discovered during examinations and measurements in the King's Chamber of the Great Pyramid of Giza carved in a large stone.
This cubit is a multiple of the radius of the hydrogen atom and the wavelength of visible light on earth. It is also in the exact relationship to the force of gravity (gravitation), the mass of the earth and the earth's magnetic field. The length of a cubit corresponds to 1.69443 geodetic feet.
Every measure of length result in what is known as a lambda. The length of an antenna is referred to as lambda. The appropriate frequency can therefore be received as a function of this lambda.
The Light-Life Tensor Rings could, therefore, be described as double-twisted ring antennas. The cylindrical light field that is emitted by the Tensor Rings is clockwise on both sides and positive. Furthermore, the outer electron shells of the atoms begin to oscillate. When the outer electron shells swing back, photons (light particles) are emitted. Everything that is brought into the light field of the Tensor Rings is charged with light energy.
According to the current state of research, the bio-photon content of food or the body is decisive for health.